Picking a hosting company is a vital decision for any developer or an online business owner. But it can be very difficult — sometimes impossible — to figure out if a hosting provider is a good one or if they are a good fit for your online asset if you haven't had a real-life experience with their service.
Marketers can be manipulative and paid content creators are no good either.
So I'll be sharing with you over 10 reasons why Cloudways is a great hosting option for your online assets based on actual use cases, as I'll be showing with helpful visuals.
Disclaimer: I have a great deal of experience with websites, especially WordPress websites. I've worked a little with Google Cloud. But I haven't deployed apps with Magento or Laravel. So, if you need specific information on those, I recommend you check out Cloudways on your own. But the reviews I've seen on those products have been positive as well.
Table of Contents
About half a decade ago I decided to go into Blogging. Back then platforms like Blogger.com were still used by many people to create websites in my location. We didn't have some of the Google updates we have now, website speed wasn't that much of a problem, as long as the load time is fairly useful.
A colleague helped me set up a blog on Blogger and left me there. I really didn't know much about what I was doing. I also didn't know much about how a website works. So many things didn't matter then.
But now they do. Truth be told if I knew then what I know now, I wouldn't set up my website on Blogger (or maybe I would since blogger was completely free). The bottom line is: knowledge matters.
Knowing that today, I have good reason to give out information that will help you set up your online business on the right platform using the right tools. From the time I decided to get going online, I've learned a lot. I've learned about things like website design, Content Management Systems (CMS) like WordPress, search engine optimization (SEO), web hosting, Cloud computing, content creation and monetization, and many other related topics.
We won't be talking about all that today. We'll be focusing on hosting. Whether you're new to websites and blogging or you've been there for some time, if you have difficulty knowing the right hosting service for your website, don't worry we'll talk about that today.
What is Hosting?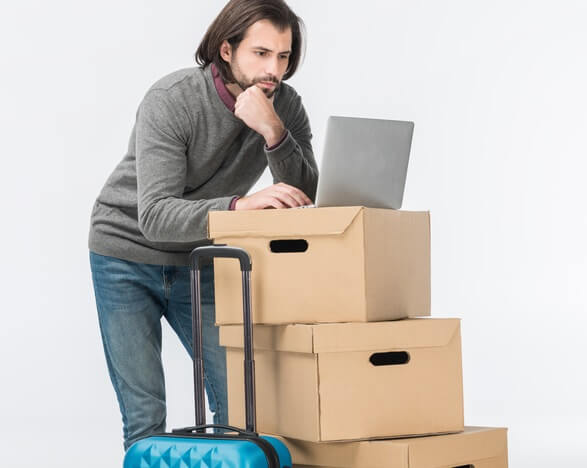 A simple Google search or a friendly chat with a bot will tell you a lot about it. But let's keep it simple.
A host (or web server) is like a computer that houses all the files you have on the internet for your website or application. You know how your website contains text, photos, audio, and all kinds of files. Well, those files need to have a storage location. Having a place to store (host) these files is known as hosting.
The identifier that people use to find your hosted website is your domain name (for example, xyzfoods.com or xyzfoods.net). This is what people use to visit your site on web browsers like Chrome, Firefox, Safari, Edge (or bing), etc.
So we've explained two things, hosting and domain name. Still confused? This illustration should help. Consider the house you live in, the building 'hosts' the things in the house (including you), and the address is what people use to locate the building (and the things inside it).
For someone to find you, they give your address to a cab driver who takes them straight to your house
In the same way, your host is the 'house' for your web content and the domain name is the address.
The internet is a connection of computers that creates what we call the world wide web. For someone to find your website, they use your domain name (e.g. xyzfoods.com) which is the identifier for the computer your files are stored. They enter that name in a web browser which takes them to the location where your website (and all the files) are hosted.
And the companies that provide hosting services are called hosting providers or hosts. A hosting computer can host more than one website.
However, in this modern world, a host or web server no longer has to be a physical computer. These days cloud computing allows us to deploy virtual servers to host our websites and other computer software.
What's the Best Hosting Service for a WordPress website?
Now that you know what a hosting server or web server is, the next task is selecting a reliable hosting provider for your website.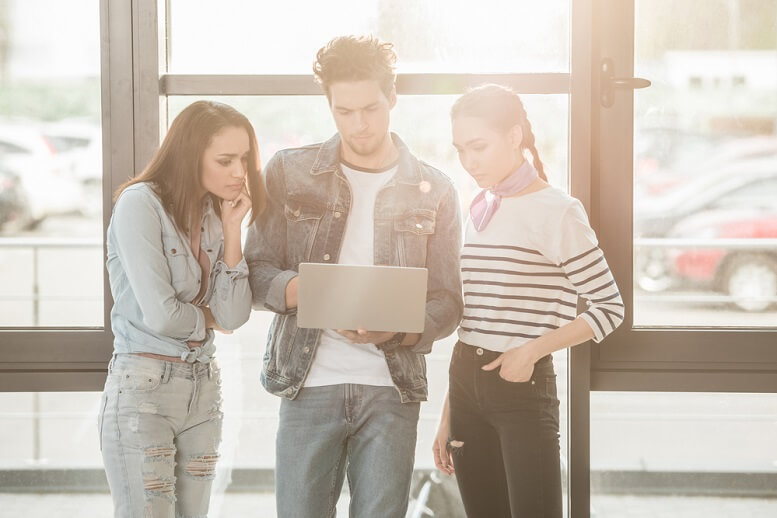 Hosting services play a vital role in the efficiency and all-around functionality of your website or online business. They directly affect the availability, security, and speed of your website. It's good you know these things because I didn't know them when I was starting.
So, picking a good hosting provider is important for your online business. You'll need a provider that can meet your needs, whether you're running an online store or e-commerce website, a school project, a business, government, or institutional website, a blog, personal or portfolio website, web application, streaming service, file hosting portal, online gaming website, what have you.
Putting all these into context, the best hosting platform I recommend without skipping a beat is Cloudways. We'll talk about them in a bit, and a few other hosting providers just in case you're not able to go with Cloudways for any reason.
You'll most likely be hosting a blog (like a WordPress blog), online store, or other common types of website, so the advice here will be okay for you.
If you're doing something big like a streaming service, you should talk to the hosting provider so they can help you pick a suitable plan and cloud hosting service.
5 Reasons Cloudways is the Best Hosting Platform for any Project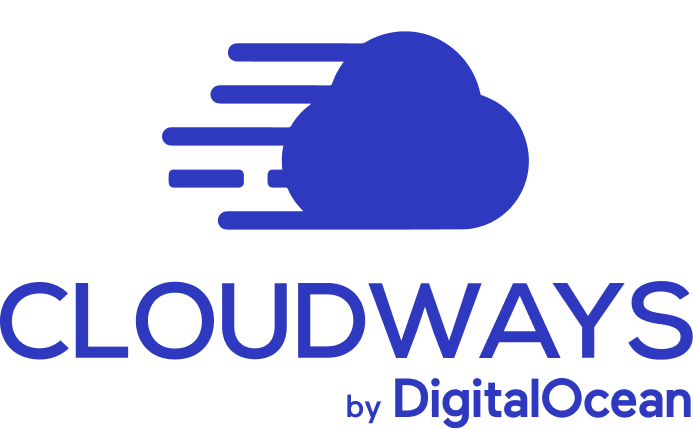 There are things you don't want to change often and one of them is the choice of a hosting company. With web hosts, I've gone from Blogger (if I should call them hosts) to two other WordPress hosting companies which I don't want to mention.
From experience, the cost of moving hosts and the money you lose to damages if they occur is something you don't want to experience. So it's important you pick a host carefully.
---
"The cost of using a bad host and the money you lose to damages (if they occur) during migration is something you don't want to experience"

— Electronics Diary
---
Cloudways, for many reasons, has been a lifesaver for many businesses, entrepreneurs, and individuals. From portfolio websites to mammoth projects, Cloudways can handle your assets.
With a few clicks, I was able to deploy my first managed WordPress website.
And for big web projects or other online apps, through Cloudways, you can use Cloudflare Enterprise, Google Cloud, or AWS to deploy your apps at a fraction of the cost. You can use their services without having to pay hundreds of dollars to start.
For example, you can use the Cloudflare Enterprise plan on your website for as little as $4.99 per month. And the more the number of websites, the lesser the price.
They have the capacity, simplicity, performance, and virtually everything you need for your online assets. Here are a few reasons Cloudways is by far the best hosting company.
1. Availability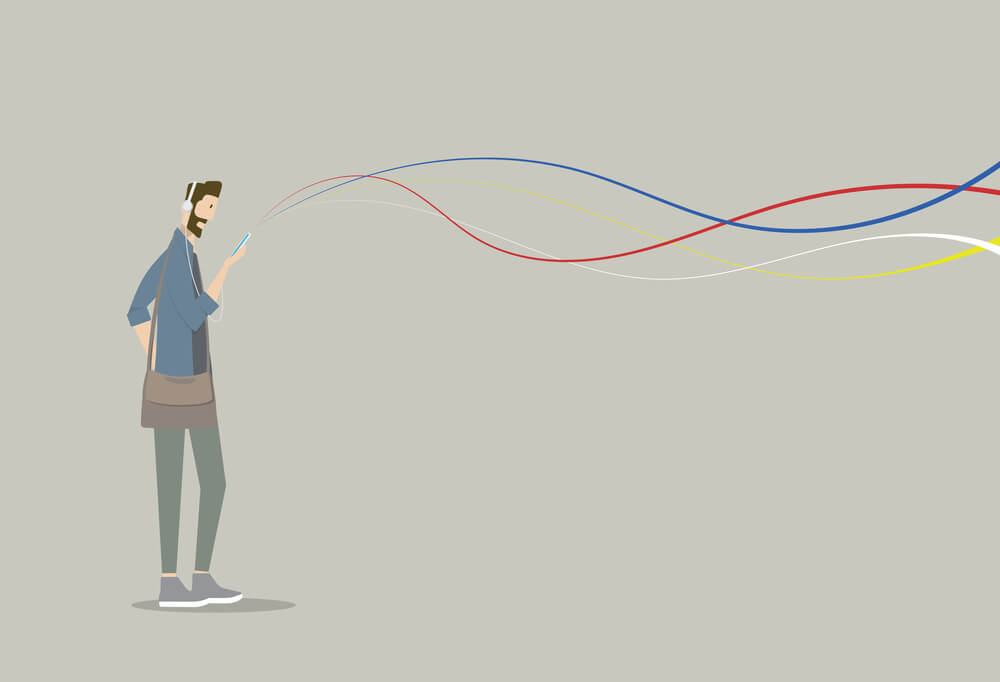 When using or working with a hosting company, even for your managed WordPress hosting, you need them to guarantee the availability of your website 24 hours a day. While that may be impossible throughout the year even for the best hosting company, your website should be available 99% of the time.
But what you want more than a guarantee is actual performance. Every hosting company will make promises (that's what the marketing team's for), but not all will deliver.
Unlike some other hosts, Cloudways is one of the companies that will guarantee the availability of your website and online apps over 99% of the time.
One of the problems with content delivery over the internet is the huge surge in traffic that could occur. When this happens, some hosts are unable to handle it and so your website could be affected. But being a cloud platform, Cloudways can quickly scale to accommodate this unprecedented demand that may occur. That way, your website, app, or online store will always be available.
Imagine hosting a website on a server that's being used by many other websites. Many hosts do this without your knowledge. Some do tell you but it doesn't help with the risks anyway.
Imagine what would happen if you share a server with an entertainment website or a news website. There could be real-life events like a football match or an incident about a top government official that would bring a sudden surge in traffic.
The server where this website is hosted may have trouble handling this demand and will begin to malfunction. When this happens, every site on that server will be affected. This is why nobody will recommend shared hosting for a serious business.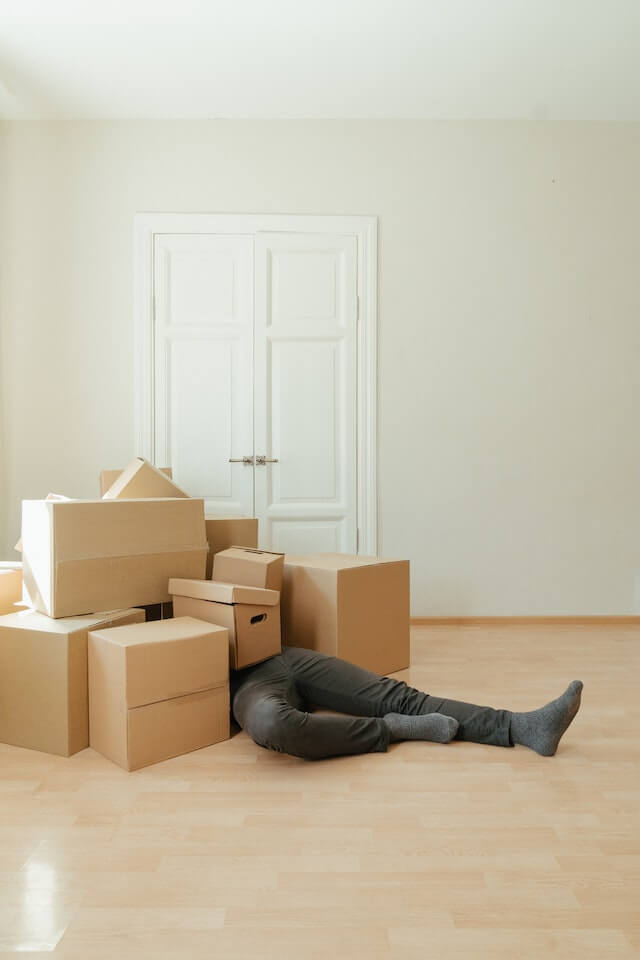 But with Cloudways, you launch your own server with its own IP address and host your website(s) there. When there's huge demand, it can scale or you could increase it when you expect a high volume of users or demand.
You create as many servers as you want. And depending on the needs of the site in terms of traffic and storage, you can decide to host more than one website on a single server or you can create a dedicated server for each website or application.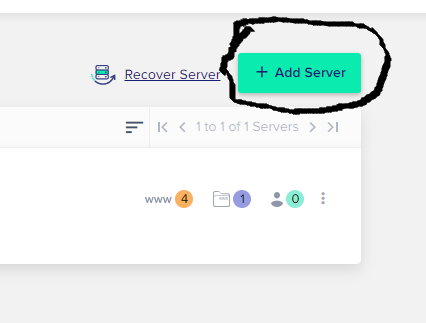 2. Performance
Similar to availability, there are a lot of features on Cloudways that make their hosting service outperform other hosts.
Apart from 24/7 availability, the other thing you get with Cloudways is speed.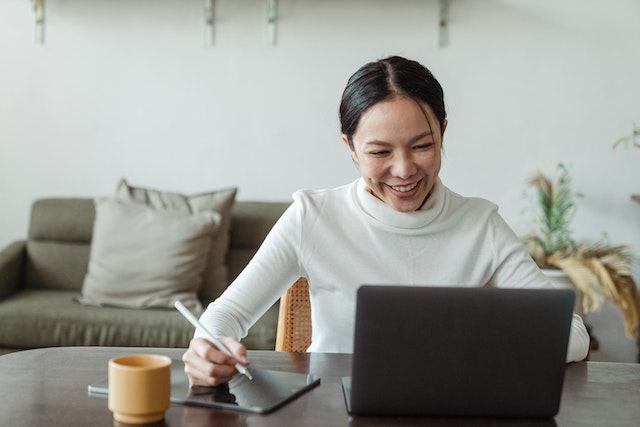 In this fast-paced world where people want to get things done with the snap of a finger, you don't want to keep a user or customer waiting. Cloudways can help with this.
Because it's a Cloud platform, they are able to deploy data centers in 65+ locations scattered all over the world. As we all know, the shorter the distance, the quicker the delivery if the speed is constant. These data centers are there to serve users coming from the nearest location.
They also have a CDN for your website and online apps. As such, users will be served from the nearest data center which means your users will get their requests delivered more quickly. With Cloudways, you have the freedom to deploy your server at any location you want.
3. Security
With Cloudways, you get 24/7 real-time monitoring for your online projects.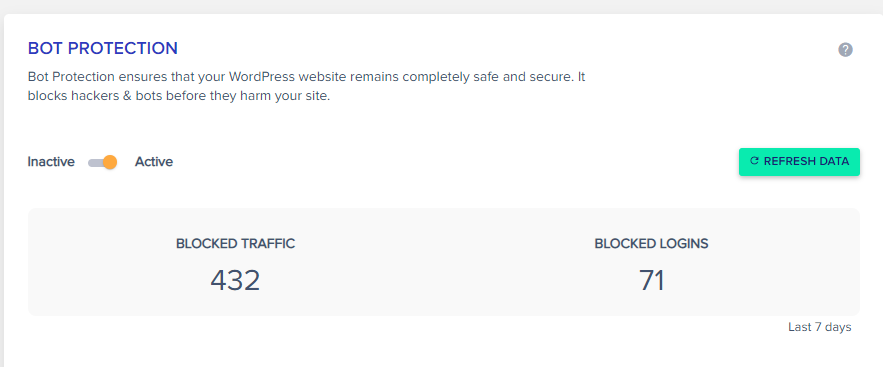 They have malware and bot detection systems in place to protect your website and apps. This means you'll worry less about security and won't have to install third-party applications and plugins to be safe.
This frees your head from security concerns so you can concentrate on managing your business.
Beyond their default malware detection and blocking systems, you can use Enterprise Cloudflare on your project for as little as $4.99. Remember Cloudflare Enterprise comes with a CDN, DDoS protection, free SSL, and many more powerful features.
Backups are also available for your online assets. They have automatic backup solutions at no extra cost. You can set your server or app to back up at a particular time of the day and also delete backups that have stayed for like 7 days.
This way, your data is always backed up daily and deleted after 7 days so you don't misuse your storage.
4. Pricing
One of the things that got me into Cloudways was the pricing.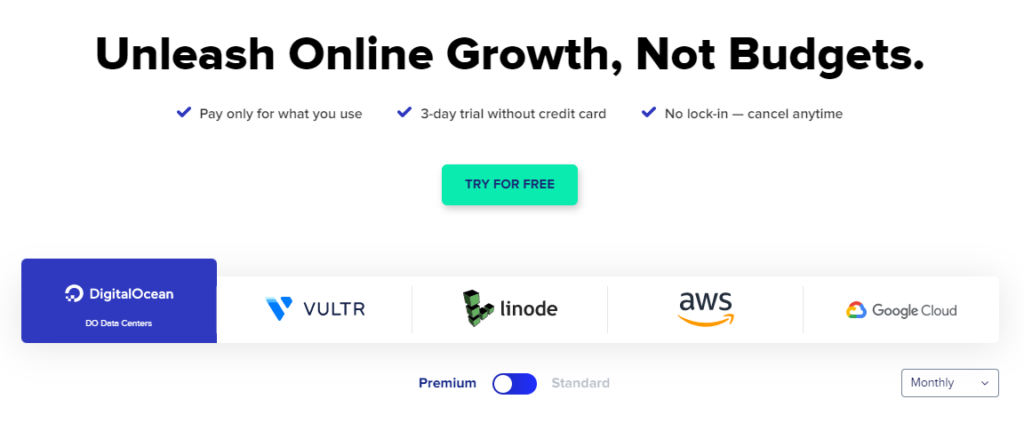 After checking out the features of any hosting provider, the next thing I go for is the pricing. I'm like, "Okay, I've seen what you can offer. How much will I be paying you for those?"
With Cloudways, you can pay on a monthly basis and you can also decide to use the hourly payment plan.
Even with that, you can use pay-as-you-go on Cloudways. Most hosts out there will have you pay a fixed price every month even when you are just testing things out. Some will have you locked in for a year or more.
Not with Cloudways. Their pricing model is as flexible as it gets.
Even better, using Cloudways gives you access to other high-end cloud platforms like Google Cloud and AWS, at a fraction of the price.
5. 24/7 Support
A very important aspect of service from a hosting company should be support. What happens if you touch the wrong button? What if you delete an app by mistake or run into a problem while setting things up?
No problems. There are expert support agents at your beck and call 24 hours a day. You can start a live chat session you can also files like links and images so you can give them visuals of what you are dealing with.
This is just a sneak peek because there are lots of other wonderful features and benefits you get from using Cloudways. Now let's move on to WordPress.
10 Reasons Cloudways is the best Hosting Platform for WordPress
Starting out as a newbie in blogging and web hosting it was particularly difficult to choose the right platform. With every host coming out to say they're the best and all that, I wasn't sure which to pick.
The worst part, I didn't have all the time in the world to use in picking a hosting platform nor did I know the resources to read. Many bloggers suggested Bluehost but I couldn't afford it back then.
I finally decided to use Namecheap's EasyWP which was $3.88 per month back then on their starter plan.
Many years later, I now know what I want. I know what you need in a web hosting platform and so far, Cloudways is the only platform that's been able to deliver all I need. Even better is the pricing, they have a plan that suits everyone depending on your needs.
Here are the top reasons you should use it for your own WordPress website(s).
24/7 Support
For me, real-time support is top of the list. I know how it feels when you're new to something or when you use something you don't know much about. The truth is: there are only so many people who know what's going on when it comes to hosting.
I know how I felt when I first started and it's important you pick a host who can respond anytime you want. Cloudways offers that in real-time. They have top-notch support agents any time you want.
The first issue I had was with making a payment. It was an agent who helped me out and saved me from fighting with my bank because I was already fuming.
The Second was when I migrated a website but the pictures refused to show. I was already online with an agent so I reported this to her and gbam, there's a solution!
This is what you need in a hosting service. There'll be there for you when you touch the wrong button or delete something and any other time you may need help.
Dedicated Server
If you're new to hosting you may not even know how important it is to have a dedicated server for your website(s).
Some time ago I was reading an article and I realized what most hosting providers do. They give you cheap hosting but don't tell you you'll be sharing a server with other websites you don't even know existed. This is how shared hosting works by the way.
In case you're new to all these things, a server is a computer that hosts all your files. You know those things you set up, your WordPress installation, videos, images, texts, code, and what have you, they are all hosted on a server. The domain name is the identifier users use to locate and access your content.
The problem with sharing a server is that any problem the server encounters affects all the websites on it. If there's an attack by hackers or a huge demand in traffic that brings about poor performance, all the websites on the server will suffer.
But with Cloudways, you deploy your own server and put your websites on it. It also comes with a dedicated IP so you have your unique online identity and reputation.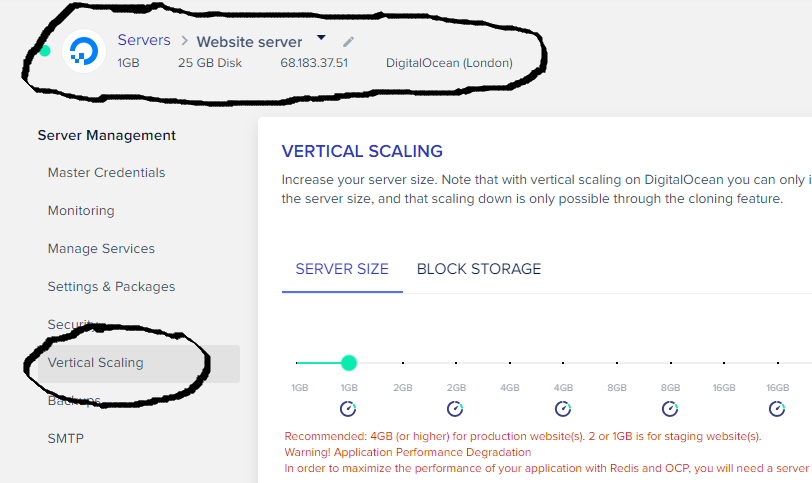 Cloudways is able to provide this because they are a cloud platform. This means they have a system in place to deploy virtual computers to you to host your files.
They also have real-time monitoring so you know what's going on with the server. You can also clone the server or scale it up if you feel it will need more resources.
Speed
There's no alternative to a fast website. Do you know that web hosting plays a role in the speed of your website? Yeah, it's not just images, CSS, and stuff.
You need a web host that can guarantee speed.
Cloudways does this by first providing you with a dedicated server. Why is this important?
If you share a server and that server experiences a high demand in traffic, it affects all the websites on the server. Think about what would happen if you share a server with a sports streaming platform. One event can cripple the server and all the sites there will suffer. Some will become slow and some may stop working.
With Cloudways, you deploy your own server, put your WordPress website(s) there and you have peace of mind. Your server delivers top-notch performance at all times – speed and availability are guaranteed!
Every WordPress website you deploy on Cloudways is set up with Breeze, Cloudways' customized speed plugin.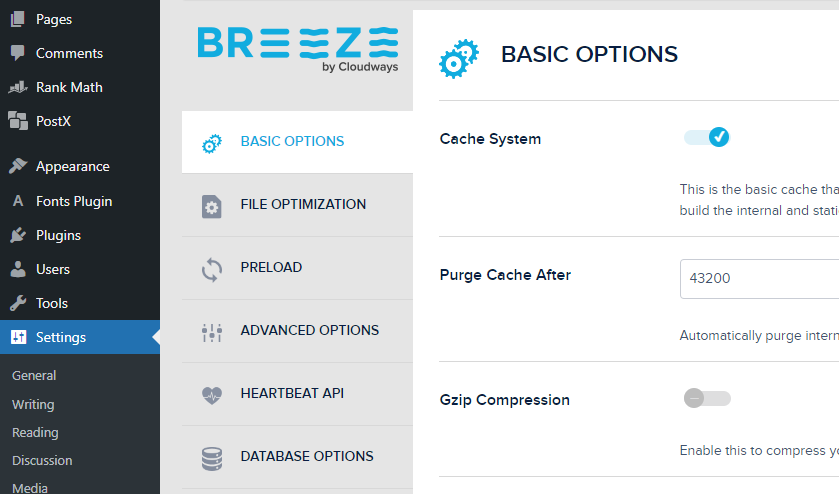 Breeze comes with everything you need for a blazing fast WordPress website: caching, CDN, image lazy load, iframe lazy load for videos and other documents, minified for your CSS, JS, and HTML, delete post revisions (which is added to your site every time you edit a post), and many more.
Post revisions can be a problem for your website but with Breeze, you can get rid of them whenever you want.
You can always tweak these settings however you want it. And it's free, you don't have to pay anything extra.
My cache is currently set to 30 days. So, every browser stores a version of my website for 30 days.
While ads and a few other things will still have to load fresh versions, the browser will not have to make a fresh trip to download my site content which means my websites will load quickly and easily.
Even better is your ability to also use Cloudways Enterprise at just $4.99 per month.
Migration
If you have a WordPress website already, you may be thinking of how you'll move your website. As we all know, migration can be messy or costly if you don't know what you're doing.
Not with Cloudways. I moved my website on my own in minutes. And it's not because I'm an expert. They have a free migrator plugin for that. You install it on your site, enter the required details from your Cloudways WordPress application and server, and within a few minutes, your website is up and running on Cloudways.
I'm putting together an article to show you how I did that so you can learn to do it too.
But if you just don't want to think about these things, once you sign up for Cloudways, start a live chat with one of their agents and they'll move your WordPress website for you hassle-free.
That way you won't have to worry about spending time to get it done or breaking something in the process.
Multiple WordPress Websites
The other good thing about having control over your server is that you can decide to put more than one WordPress website on it.
Most managed WordPress hosting providers only allow you to host one website on each plan you pay for. Others have plans that allow you to host multiple websites on it but there's no guarantee you won't be sharing it with another anonymous website.
Cloudways stands out here because you can create your server and use it on your own. The live monitoring feature lets you know how much storage and other resources you're using.
This means you can always scale the server if more resources like storage is needed. Scaling is also helpful if you expect a surge in traffic from one or multiple websites. You can decide to host each website you own on a dedicated server if you want.
WordPress Multisites
Apart from being able to deploy individual WordPress installations, you can use the unique Multisites feature if you have numerous websites to deploy. Having to log separately into every WordPress website you're managing can be difficult especially if you're a developer.
WPMU comes in handy if you're a developer managing several websites for clients. You can create a Multisite instance, and make yourself the admin. This multisite setup will house all the WordPress "subsites" you've created for your clients.
You can access and monitor all the websites with one login (on one platform) while you give personal and individual access to the respective site owners.
WPMU is also very useful on websites owned by organizations. There are organizations like schools, businesses, or development agencies that will have to use independent sites for most departments. Some will also need several subdomains like engineering.website.com, science.website.com, admin.website.com, and so on.
Using the WPMU on Cloudways will help you manage these sites easily in one place.
Talking about subdomains, I used to think all web hosts will allow or want you to deploy subdomains. That is very far from the truth.
I once reached out to a web host so they could help me with ideas on how to set up subdomains for my website. They bluntly told me I can't do that on their platform. Imagine how frustrating that can be if you're new to web hosting. That's another reason you need a web host that can provide you with all you need now and in the future.
Pricing
One of the things I look out for when picking a host is affordability. However, the last thing you want to do is pick a cheap hosting service. After several years of experience, I can tell you that there's no cheap hosting service.
A web hosting article on Kinsta confirms this. Maintaining a hosting platform is costly, add in live chat support and other miscellaneous needs and you'll know it's not cheap.
So why or how do most companies advertise cheap plans? Without telling you, most providers compromise features and performance to bring you cheap hosting. Most cheap services are just there for marketing purposes, just to bring you in and then hopefully get you to upgrade.
In cases where you don't upgrade because you're frustrated with performance (that's if you can find out how your website is actually performing in the real world), they stick with their big-money customers. Never choose a hosting service because it is cheap. Your business will pay for it in the long run when the needs increase.
Finding a managed WordPress host that has the right balance of features, performance, and pricing is very difficult. The good ones like Cloudways, Kinsta, Bigscoot, etc, can be costly. Cheap hosting on the other hand is not what you want.
Cloudways solves this problem. Pricing starts at just $10 per month, not $3 or $4 as it is on most cheap platforms. I'd recommend the $12 plan if you can afford it.
Cloudways also has a pay-as-you-go payment plan. This way you're not locked in for a year or more as it is with most hosting. Their retention rate is great which is what gives them the confidence to let you use their high-end service on a monthly plan. They also have an hourly plan if you want.
And with this, you will be able to deploy your own scalable server to host your WordPress site(s) there. This guarantees performance and security no matter the size of your website and its needs.
Automatic Backup (downloadable too)
One of the things you worry about on WordPress is backups. What if I install the wrong plugin or theme? What if for some reason I or someone other admin deletes my website?
Cloudways' auto backup system is there to take care of this. This removes the need to install another plugin on your website, which is the conventional way of making sure your site is backed up.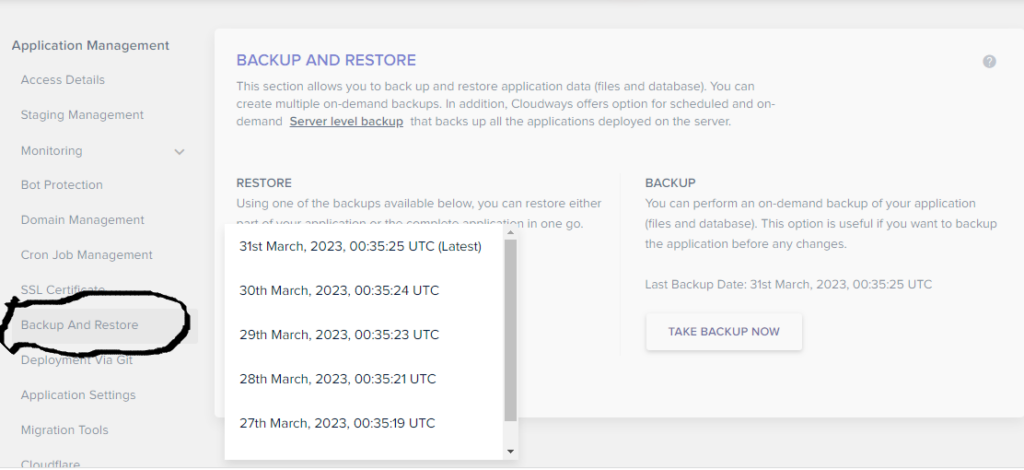 Some of these plugins will need you to have a paid plan if you want to set up auto backups. And you can't trust the free backup plugins. It can easily be hacked. Also, if you lost backup, you can't hold anyone accountable.
Cloudways' automatic backup takes care of all that for you. It removes the need to add an extra plugin and we all know the more the plugins, the slower your WP website. Also, because this service is part of the monthly plan (for example, the $12 plan), you'll be sure your backup is safe.
No Plugin installation Restrictions
Some hosting providers have restrictions on the kind of plugins you can install on your WordPress website. Well, that's why most of them are cheap.
I was surprised the day I tried to install a plugin but I couldn't because my previous host didn't think I should use it. They said it's heavy. But shouldn't that be my concern?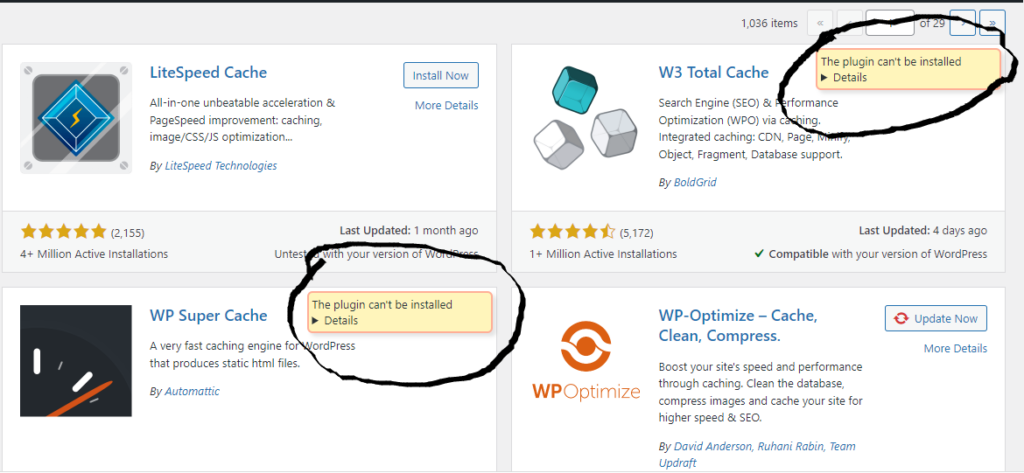 I told you no hosting service is cheap. And they won't tell you things like this up front.
With Cloudways, there's no restriction on the kind or number of plugins you can install. You will always see the storage space you're currently using and the bandwidth too. So you know what's going on with your site.
Scalability
Whether you want to host one website or hundreds, Cloudways can do it. You need one server or dozens, no problem. You can always clone (duplicate your server) or scale it.
And there's no limitation on the number of visitors your website can receive. When signing up on a WordPress host, some have limits on the number of visitors you can receive for optimal performance on that server.
Cloudways doesn't do that. And there is no limitation on bandwidth. They start you up on a whooping 1TB bandwidth which, of course, you can scale if, for some bizarre reason, you need more.
And you don't need to call 911 if there's an urgent need to scale. You just log in to your WP app dashboard and increase your resources. If you're not sure how to do it, a live chat support agent will be there to do it for you.
Do you have a feeling that you need to scale but you're not sure? Talk to support too and they'll tell let you know if you need scaling.
Security
Most users don't know they need to protect their WordPress websites from hackers and robots. Many who know about this don't know how to do it, or how to do it properly. It's very important your website is protected from hackers and bad bots.
This is even more important if you're into e-commerce. An e-commerce store needs several plugins to do all that is required. But most of these plugins come with bugs that hackers can exploit.
Once again, Cloudways will help you do this. And yes, you don't have to pay extra.
Some years back, after setting up my first WordPress website, I had to install Wordfence which is, by the way, a very good protection plugin for your website. It became a normal way to protect my WordPress websites. Wordfence has a free and premium version I knew I was mission a few features since I couldn't afford the premium plugin.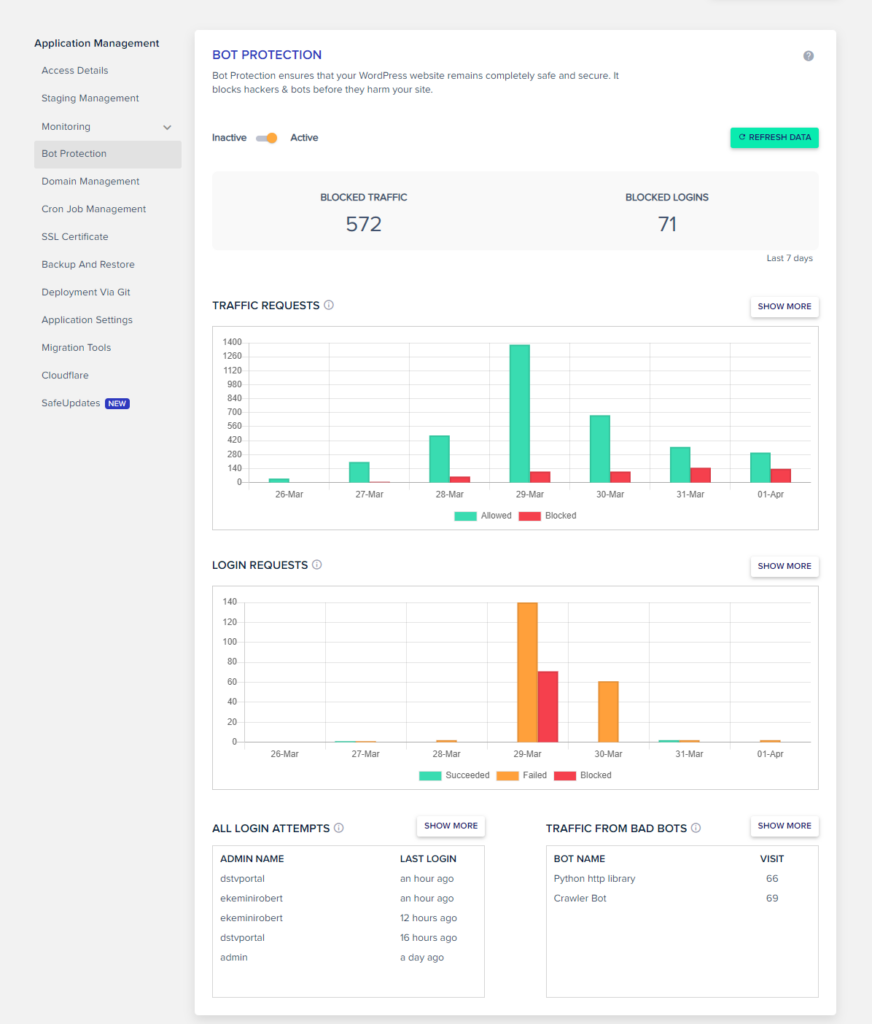 But Cloudways has its own bot and malware protection program. It comes preinstalled on every WordPress website you deploy. This protects your website from hacks.
Most hackers try numerous usernames and passwords (as shown in the image above) on your website using robots. Cloudways Malcare monitors this and blocks out this software and individuals from ever being able to access your website.
This stops unnecessary visits from bots and hackers and opens your website only to customers and well-known robots like Google crawlers. They even show you the name of some of the bots trying to attack the website.
Also, starting at only $4.99 per month, you can take advantage of Cloudways' partnership with Cloudflare to bring you the Cloudflare Enterprise plan.
With this, you get end-to-end encryption with the HTTP3 protocol, protection against DDoS attacks, Web Application Firewall to block out attacks and emerging threats, automatic backups, and safe updates to allow you update your WordPress website without any outages or breakages.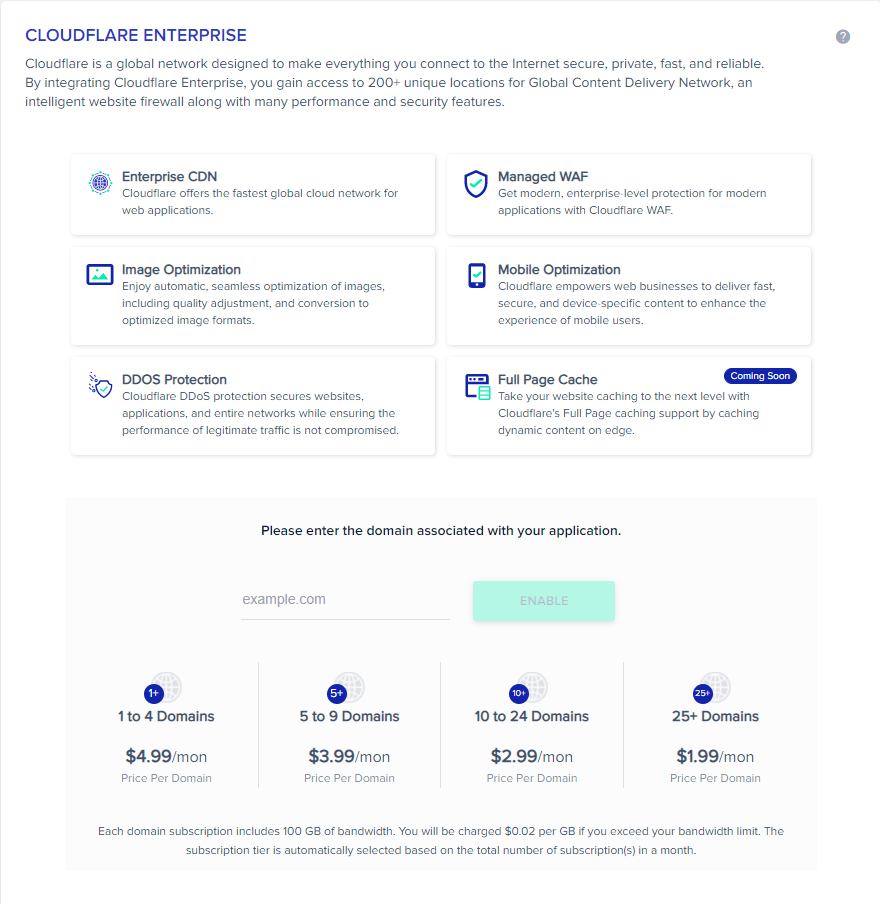 By now it should be obvious why I fell in love with Cloudways: It's the unbelievable quality they offer at such an affordable starting price, they even have a pay-as-you-go payment structure.
Most times when updating a theme or plugin, your WordPress site goes offline but Cloudflare Enterprise takes care of this too.
Looking at the Cloudflare pricing, you'll notice that Cloudflare's smallest plan starts at $25 per month. But Cloudways has partnered with Cloudflare to bring you to enterprise starting at just $4.99 per month. The value you get with Cloudways? You do the math.
Other key benefits of using Cloudways
We could go on and on about the amazing features you get with Cloudways. Yet there are lots of other features worth mentioning. Apart from the freedom to pick out of five cloud platforms including AWS and Google Cloud, many things make Cloudways second to none.
With Cloudways, your web app and WordPress website get:
free SSL;
unmatched site speed;
a dedicated firewall;
automated backups;
auto-healing;
24/7 monitoring;
24/7 support;
security;
scalability;
a free AstraPro with lots of other benefits.
Follow this link to sign up and you'll get a free AstraPro on Cloudways. Drop a comment or send me a message if you have any issues using any of the features above.
Other WordPress Hosting Services
Now even when Cloudways may be the best hosting platform out there, there are other top hosting platforms you should know about.
Kinsta
Kinsta has been around for a long time. It is one of the best hosting platforms you can use for WordPress and for many other hosting needs.
The only reason I didn't jump on Kinsta years back is the pricing. It can be costly for starters who don't have much money to spend on hosting.
However, I regularly visit Kinsta's blog for information. Even when searching for WordPress and other web hosting-related issues, I look out for their links. Sometimes I simply include their domain name in the search query to pull out their results.
I've learned a lot about WordPress and hosting from them. And you can trust their information because they're not paid by any of those plugin developers or hosts.
This is why I love visiting Kinsta for information. The free theme that got me 150,000 users per month was recommended by Kinsta. A lot of other things I know, I learned them on Kinsta.
BlueHost
Ever since I got into blogging about 5 years ago, I still hear most top bloggers recommend Bluehost. This can't simply be about money because they'd all be destroying their reputations by doing that.
This means Bluehost is another good platform you can try out. And after checking out Bluehost, I can confirm it is a good platform. They offer many features you'll also find on Cloudways including a free migration tool, auto backups, malware protection, 24/7 support, and much more.
EasyWP by Namecheap
The major reason EasyWP is on this list is affordability. They can get you started where other hosting providers like (Bluehost, although they offer outstanding service and I recommend them) will only let you in if you commit to a yearly plan, at least.
I started on EasyWP years back at just $3.88 per month. They were the only provider who would let me start a managed WordPress website at that price. The starter plan is now $6.88 which is still cheaper than most, though.
Namecheap also offer shared hosting at just $1.98 per month. And you can host several websites on it.
But I'll never recommend cheap hosting. Just use it for testing purposes or if you are unable to afford a platform like Cloudways or Bluehost. And if you're hosting a WordPress site, I would recommend the $6.88 starter plan.
Final Word
After many years of using hosting services and cloud providers, I can always recommend Cloudways to take care of your online assets and deliver high-quality performance 24 hours a day, while you concentrate on running your business.
And if you're a developer, it will make your clients love you even more because you won't have to explain your way out of poor performances every now and then.
That's my take: Cloudways is one of the best out there. Have you used Cloudways? Let me know what you think.