For every hotel, a good television service is one good way to meet the entertainment needs of your guests and grow a loyal customer base. As such, the hotel manager responsible for entertainment will have to choose the most suitable TV service for the business. In Africa, DStv

is easily the best option for most businesses and hotels are no exception. Many hotels, bars, guesthouses and event centres use DStv packages to meet the entertainment demands of their customers. If the only TV service you have is coming from DStv and you are not sure which package to choose from their bouquet, the data presented here will help you pick the right package for your hotel's TV entertainment needs.
Top Questions to answer before picking a DStv Package
Making your guest happy is as simple as meeting their need, which as a result, makes them happy and comfortable. It's that simple!
However, this can only be possible if you know what your customers want and can give it to them just the way they want it.
Good managers like you know how to find solutions to problems because this is where the glory lies. And to do that, you'll have to do the research. You have to get information, analyse the data, find answers to questions, and then make a decision based on the information you have.
If you don't have the right information to begin the process, you have nothing.
The following questions will help make your research a lot more effective. Get the answers to the questions below, match them against the information you have on the available DStv packages and you'll find it easy to choose the best package for your hotel business.
It's not as difficult as it sounds. Dive in let's get this done!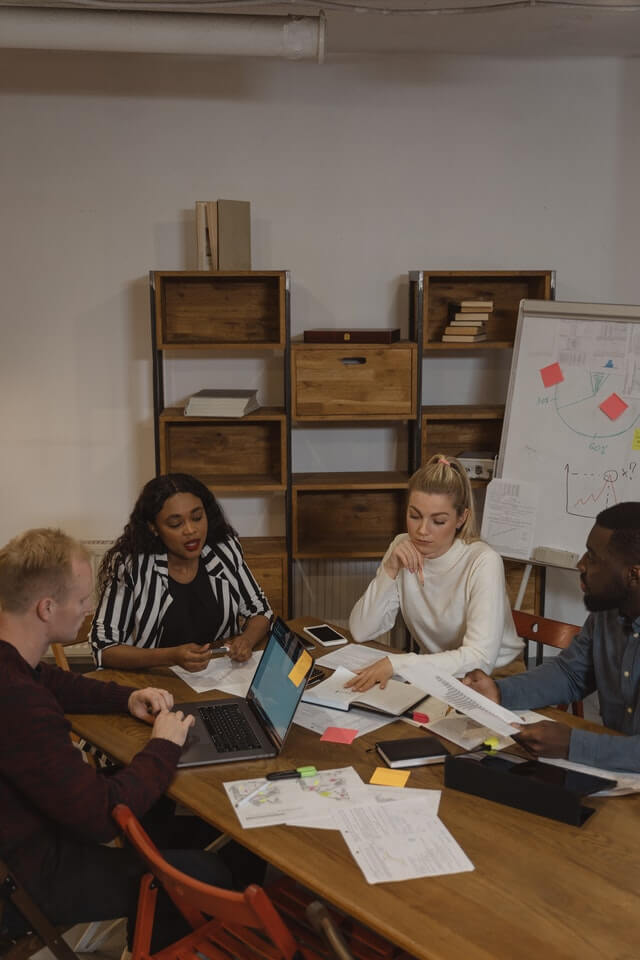 Who are your guests?
To answer this question correctly, you'll need to cover critical aspects such as occupation, location (which may also decide the culture), and age.
While you can't have a one size fits all DStv package for your hotel, knowing what most of your customers love will help you pick the right one.
Location
So, where do most of your customers come from? For some hotels, this is simple, as they expect 99% of their guests to be local: coming from within the state and other neighbouring states in the country. But if you are running a luxury hotel in Lagos

, for instance, you bet you'll get lots of people from places you never knew existed.
Those are two different hotels with different kinds of customers. For the former, you won't have much to worry about since the customers are local. Any DStv package with a few local and international channels will do.
For the latter, you'll need the best packages for your guests. Something like DStv Premium or Stay Ultra. These are the kind of packages that can meet the need of travelling customers as it has a variety of world-class channels for the best of sports, TV shows

, and news.
Occupation
Knowing the occupation of the majority of your customers can also help you choose the best DStv package for them. What do they do? Do you welcome more business owners, academicians, tourists, politicians, or athletes?
Some hotels get more celebrities, others get more politicians and so on.
This data will help you when choosing a DStv package. If they are mostly politicians, you'll want to get a DStv package that has all the local and international news and documentary channels. If they are mostly celebs, then entertainment is the way to go.
Age
The age group of the majority of your guests is another thing you may have to consider. This may not be necessary after looking at the data but when it matters, you have to make sure your TV service is set up to meet their entertainment needs.
There are basically three age groups: young people, adults and senior adults.
If you have more young people, you'll want to make sure you choose a DStv package with channels

that offer the latest TV shows and sports entertainment.
But this should not be an exclusive criterion when choosing a package. Always try to make sure the package does not only work for the age group but the location and occupation of your customers as well.
What do they need?
Based on information gathered from The Edgewater Hotel

, one of the most important things you should do to make your visitors feel good is to give them "exactly" what they've asked for.
The fact is that some of the people who check into your hotel will barely look at the TV until they check out, as they are more interested in things like the view, exploring the lounge, the food, and hanging out by the pool just to have fun and meet new people.
Nonetheless, there are also lots of guests who'll spend a good amount of time watching TV

.
Try to figure out what your customers would love to have. What would make them feel satisfied? Are they looking to relax, or explore? They'll always want both but some people will want more of one than others.
Get this information and record it somewhere. But then how do you do that?
To know what they need, get to know who they are, what they do, where they come from, and their age group. Get enough data on those parameters and you'll figure out the needs of your customers.
What is your budget for TV services?
How much is management willing to spend on hotel entertainment

. This may sound weird but, indeed, some hotels don't pay good money to meet the customers' entertainment demands.
If management won't allow you to spend good money on entertainment, all you've read here won't have any effect on your choice.
The only choice you'll have is the cheapest DStv package: the most affordable package will simply become the best package.
What do the customers think?
Getting your customers' thoughts is vital if you want to meet their needs. Gather information from customer care and other sections of the business that collect data on customers' requests and necessities.
Look into them as part of your research and you'll know what your customers think and ultimately, what they'll want to have when it comes to entertainment.
Choosing the Best DStv Package for Your Hotel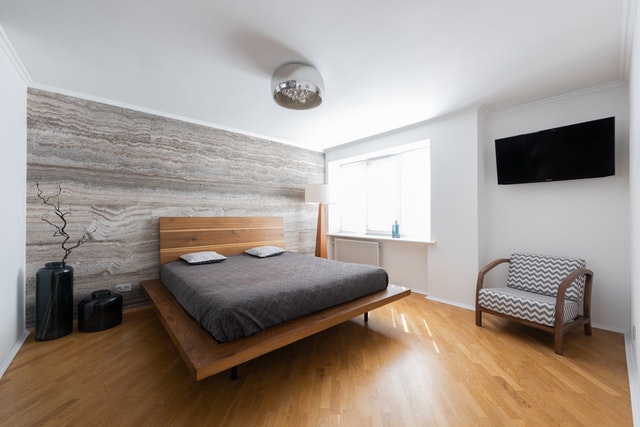 As a manager, you don't want anyone missing out on a TV show, or live sporting event because they stopped by your hotel.
You can choose the best package for your guests when you understand their needs. This is done by analysing the information you have on their location, occupation, and age group, and also matching what you have with the budget you have been given.
What are the Best DStv Packages for Hotels?
The best DStv package for your hotel is the one that contains the needed channels for your customers and is also within the budget given to you by management.
But you still need to know the package and channels before you can pick one. This will also answer the question as to whether DStv can get the job done.
This shouldn't be a problem. Being the best TV entertainment company in Africa, DStv can meet the needs of just about any kind of person or business across the continent.
After going through this information, you may still want to see what we recommend. But don't just pick anyone. The best package for a local hotel may not work for a similar hotel with a small budget. Here are the best DStv packages for any hotel. 
DStv Stay Packages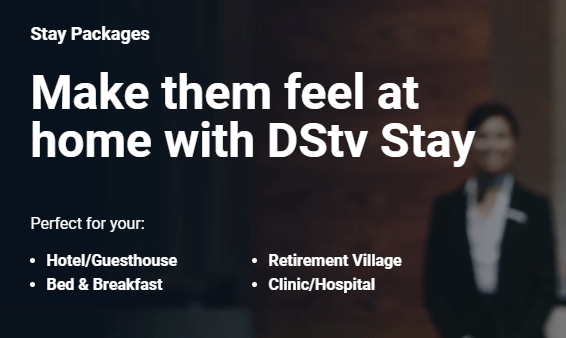 Stay packages are great for hotels and bars. This group of packages was created specifically for these kinds of businesses.
There are three DStv Stay packages

: Stay Ultra, Stay Essential, and Stay Basic.
They are all made for hotels and bars. They have handpicked TV channels to meet the needs of travelling customers and just about anyone looking to unwind in your hotel.
The best Stay package for your hotel depends on your budget. If you have the money, go for Stay Ultra. If you can't afford Ultra, go for Essential or Basic.
DStv Premium
We'd recommend DStv Premium

for just about any business or individual. This is DStv's biggest package it's the way to go for any serious business.
Premium contains all channels you want, which means it will be a great fit for every customer irrespective of age, gender, occupation, or culture.
The only hiccup with the DStv Premium package is the price. Depending on your location, Premium can cost you as much as $57 per month on each installation.
If you make use of Extraview, you'll have to pay an extra $6 for each decoder you connect to one installation, and you can only connect a maximum of 3 decoders

on one dish installation.
DStv Compact Plus
DStv Compact Plus is a great option for hotels, bars, and event centres. The package offers many channels that can be used to entertain your guests.
As far as the entertainment aspect goes, you'll have access to hundreds of movies and shows

that will keep your guests entertained.
It is the best package for your business if you can't afford the premium bouquet.
You'll also have access to sports channels like SuperSport and ESPN. These channels will allow your guests to watch live games from anywhere in the world without leaving the hotel.
Other DStv Packages for Hotels
Apart from Stay packages, Premium, and Compact (which are the best for hotels and businesses), there are other DStv packages you can choose from.
They include:
In conclusion, the best DStv package for your hotel is the one that contains the needed channels for your customers. It should also be a package with pricing that does not exceed the budget given by management for TV services.