DISCLOSURE: The author, Ellen Parker, has commercial partnerships with the brands mentioned and linked to in this post. See disclaimer for more information.
Searching for the best sources of high-res audio files? Here's your lineup. But before we get started, here's what you need to know about the difference these advanced audio files make to your ears.
High-res audio is basically music recorded and stored in such a way that the resolution and audio quality isn't diminished as it is with yesterday's MP3 and CD audio files.
Through smarter recording and more complete sound files, audiophiles are able to enjoy the full music experience without the static and loss of clarity found in traditional recordings.
Here are the high-res audio files to look for:
Not all devices support playback of high-res audio files, so if you haven't decided on your next traditional or wireless speaker system purchase, you may want to consider compatibility before purchase. Not all audio stores sell the most advanced high-res files either, so you may need to do some digging to find your favorite tunes in lossless audio.
To save you the work now that you know what high-res audio is, here's where to find the right files.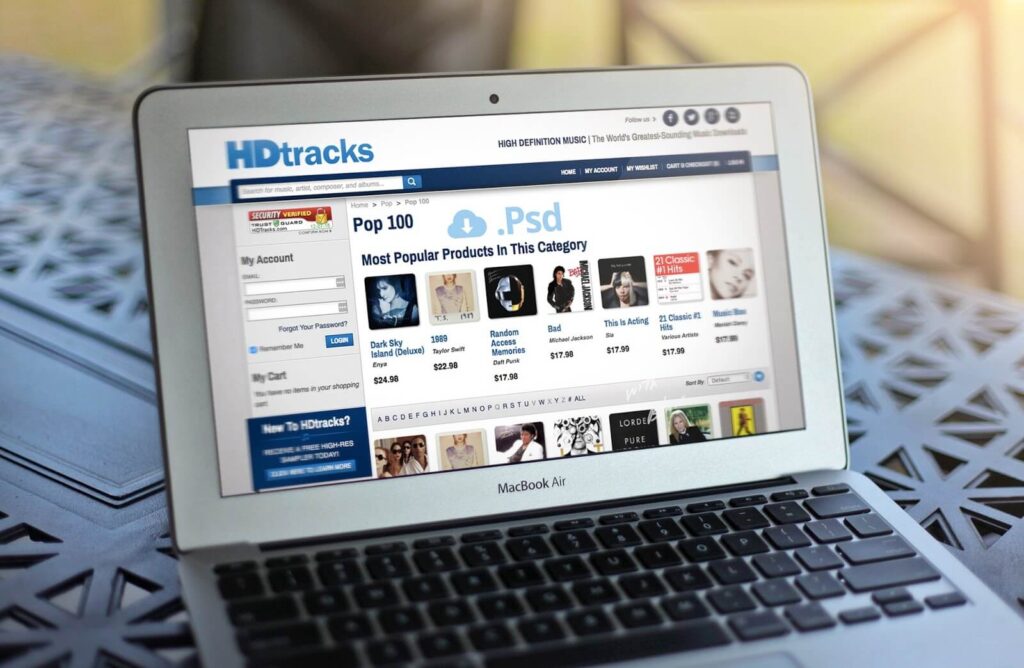 1: HDtracks
HDtracks comes in as your #1 source as the world's largest online library of high-res audio files.  Co-founded by David and Norman Chesky, the two are pioneers in the industry of high-res audio, starting way back in the beginnings in 2008.
And with an easy to use navigation, it's a one-stop-shop for high-res bestsellers, classic rock, pop, jazz, classical, and music from the '50s to '90s top hits. You can view tracks by genre, year, artist or label.
2: Acoustic Sounds
Just as the name implies, Acoustic Sounds provides a variety of acoustic style music in form of high-res audio files. They frequently offer promotions for featured tunes, and their variety includes blues, pop, rock, classic, folk, jazz and more.
Related: Meet the Smartphone with Spatial OZO Audio Technology
3: iTrax
Offering both audio and video files, iTrax is the centerfold of high-resolution. Launching in 2007, they are also the world's first high-res digital audio download website, ahead of their competition by almost a year. Committed to quality, you won't find a download that isn't in reality, high definition.
4: ProStudioMasters
Audio Uncompromised™, ProStudioMasters offers a variety of high-res audio files in 24-bit AIFF, FLAC, and DSD/DSF. Their listing is received directly from major and independent record labels. And when paired with a supporting wireless speaker system, you know you're getting the highest quality available.
5: Blue Coast Records
Investing in the technology right from the start, Blue Coast Records are music scientists of sorts, experimenting with new recording techniques for the next generation of audiophiles.
Recording in their very own E.S.E. technique, Blue Coast Records not only provides high-res audio files; they also produce their very own range of high quality tunes.
6: Channel Classics
"The perfect combination of sound and performance," Channel Classics is a record label based in Holland, producing some of the industry's best sounds in classical audio files. Whether you're looking to discover new artists in high-res or looking for some classics, they've got your timeless audio covered.
7: Chandos the Sound of Classical
Easily distinguishable by its title, Chandos the Sound of Classical (Incorporating the Classical Shop) provides shoppers with endless high-res classical music audio files.
From modern classical to the old-time favorites in symphony, they have got the majors covered. If you're in the mood for some relaxation and intensely orchestrated tunes, this is your source.
8: HighResAudio
Most intuitively named, HighResAudio provides you just that. In categories of classical, jazz, rock, pop and top charts, HighResAudio not only provides countless high-res audio files, but they also do their best to educate shoppers on what exactly makes high-resolution sound so much better.
"A higher sampling frequency enables the reproduction of music beyond 20 kHz to represent the full harmonic spectrum of the recorded instruments…. We like to present the MusicScope-Measurements of the most common music formats to make their differences not only audible but also visible."

HighResAudio
9: ATMA Classique
With no restriction on the number of devices per download and unlimited downloads for 15 days, ATMA Classique is another great choice for classical hi-res files.
Primarily targeted towards the Canadian market, ATMA now includes over 500 titles in a range of symphony to traditional, tango and contemporary classics.
Related: 5 of the Best Gadgets you can gift on any occasion
10: Pristine Classical
Another source for the classics, Pristine Classical seeks to deliver the best range of classical music from a single source. Re-mastering digital recordings, this is the place to go for the best in true classical music with modern quality sound.
High Resolution Compatibility
Got your trigger finger ready to purchase all your favorite tracks?  Before you dive all in, don't forget that those purchases will be in vain if your speakers aren't up to date to support playback of those files.
If your system is 10 years or older, you're definitely out of luck. If you have a newer system, you may just have been lucky enough to score a high-res compatible device without even knowing. Check out the product details on your current system for high-resolution audio support.
The leaders in audio manufacturing understand that high-res is the next generation in the music industry, and are doing what they can to keep up with the demand. Many even make the feature a highlight on their eCommerce sites, making sure listeners know that their high-quality music desires will be enabled with their devices.
HEOS by Denon has revamped its entire line of wireless speaker system devices to support high-resolution audio, being careful to list all the supported file types in their product descriptions.
For the ultimate music experience, get your device and your favorite files up to date with these resources, and start enjoying this generation's most advanced listening experience.
Related Items