Truth remains that before the advent of smartphones, Nokia was one of the most popular cell makers in the world. Infact, one could say Nokia sold more phones in the world before smartphones surfaced and kicked it off the pitch. Well, we shall be looking at another wonderful device by Nokia and this time, we bring you Nokia 8 Smartphone.
Devices by Nokia are known for a lot of stuffs. They are always durable, affordable, easy to use, and always come in different shapes, sizes and colours.
Because they were strong, one could even throw a Nokia device at someone and still pick it up.
In some parts of the world, a lot of people nicknamed Nokia devices "stone."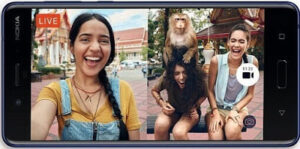 In some places, it was possible to go a whole day and not find any other smartphone apart from Nokia.
Most people expected Nokia to dominate the smartphone market the same way. When smartphones were introduced, one of the problems was that most phones were really fragile.
And because Nokia phones were always durable and affordable, people expected Nokia to be one of the most popular smartphones in the world.
Most of us expected Nokia to start making Android smartphones but in 2014, Microsoft purchased Nokia's mobile device unit for $7.2 billion and "Nokia," rather, started making smartphones running the Windows operating system.
That didn't turn out well for the Nokia fans. The features and specification of the windows smartphone did not make much sense to most people in developing countries.
A lot of people got smartphones, but most of them were getting smartphones running iOS, Android and Blackberry.
In May 2016, Microsoft sold its mobile assets to Foxconn, HMD for $350 million and that's how Nokia phones returned to the phone market.
Related Articles: Facebook Launches 360-degree photo feature
Since this time, Foxconn has invested heavily in the mobile phone unit and Nokia has finally launched its first flagship Android smartphone (with some interesting features) and let's hope it's not too late.
Quickly, let's check out the new Nokia 8 Android smartphone Specs. But before we get to the summary, let's see the key features of what Nokia calls the "Bothie."
Nokia 8 Key Features
The most interesting attribute of the new Nokia 8 is the "dual sight" feature. On the dual sight mode, you can capture and record videos with both the front and back cameras at the same time.
The dual sight feature also offers split screen: which means you are able to do real-time recording with both front and back cameras on one – split – screen.
The other key feature is the Nokia OZO audio. The new Nokia smartphone uses spatial audio technology. It records sound with three different microphones and can play it back in multiple directions to give a great sound.
This is really great for music lovers and those who love making videos.
Nokia 8 Specifications Summary
Price: £546 ($700)
Size: 151.5 x 73.7 x 7.9 mm
Camera: Dual 13-megapixel rear cameras
Front Camera: 13-megapixel front-facing camera
Four colour options: Polished blue, polished copper, steel and tempered blue
Dual Sight (explained above)
Spatial OZO Audio Technology (Great sound experience)
Display: 5.3" 2K IPS LCD QHD (2560 x 1440), 554 ppi pixel density
OS: Android 7.0 Nougat
Storage: 64 GB internal memory with external MicroSD card slot
Qualcomm® Quick ChargeTM 3.0 compatible
You can get you Nokia 8 early September and the price is £546.
Related Articles
Facebook Launches Facebook Watch
How to Kill thousands of Mosquitoes with simple Fan trap