This post contains affiliate links. I may receive a commission if you make purchases using the links at no extra cost to you. See disclaimer.
---
Are you finding it difficult to make up your mind about the best managed WordPress hosting platform for your new blog? Perhaps you've heard of Namecheap's EasyWP but you are a bit skeptical because you don't know much about it.
While our No. 1 hosting service for WordPress is CloudWays, in this article, we are going to consider the reasons NameCheap's EasyWP is also a good place for your self-hosted WordPress website.
First of all, let's define the terms.
If you are new to WordPress, domains, and hosting, or blogging in general you may be unfamiliar with terms like managed WordPress hosting and self-hosted WordPress.
Let's clear the air on that before we look at the reasons that make EasyWP the standout solution for your self-hosted WordPress blog.
Managed WordPress hosting
Every website on the internet needs a place (commonly known as a server) where all its images, texts, and the source code for everything you see on that site is stored.
It's like renting a space for your clothing business or store. You simply make payment for a specific period you want and that space becomes yours until your money expires.
That's where you work or keep the items you are selling.
Similarly, when you pay for hosting, you get a space to keep your website files. You connect it to a domain name which becomes the address through which the public can view those files.
Your WordPress website needs to be hosted. But there are a lot of things you may need to know before you can handle hosting properly.
That's where managed WordPress hosting providers come in. With managed WordPress hosting, you don't get to worry about most of the things that need to be put in place for hosting to work properly.
You just sign up for WordPress through a managed WordPress provider, go through a few steps to set up your site and every file you use or upload will be automatically saved to your dedicated hosting space.
Just like renting a store in the real world, you will continue to access the hosting facilities you have paid for, add, edit, and remove files until your "rent" is due.
Then you will decide if you want to renew, close the account or move to another provider.
That's a little of what hosting is all about and most likely all you will have to know to get started.
Self-hosted WordPress
If you have done your homework on content management and blogging platforms outside WordPress.org, you would have come across platforms like WordPress.com, Blogger.com, Wix, Squarespace, and more.
You may also know friends who have started blogs with platforms like WordPress.com or Blogger.
It's running smoothly and they don't appear to have any problems. Hosting is free on WordPress.com and Blogger. Basically, all you pay for is the domain name, a template (optional), and a Web Designer if you need one.
Apart from Blogger.com and WordPress.com, other content management platforms offer free hosting but we won't cover them in this article (because there is no point).
It's not always a good idea to get free hosting with WordPress.com or Blogger.com.
With free hosting, technically you don't own your content. You don't have any legal rights as to what happens to the content you are hosting for free.
This means that a hosting provider may decide to shut down or delete your website whenever they feel like it.
To prevent such scenarios and give yourself full ownership and control over your online business, you need a platform that grants you full rights and access to your content.
This is where a self-hosted WordPress blog on WordPress.org comes in.
Starting your blog on WordPress.org guarantees that you remain a legal owner of all your website resources throughout the time you wish to remain online.
A managed WordPress hosting provider allows you to create a self-hosted WordPress with a few clicks of the button even when you may not have any idea how things work.
Now that we've cleared the air on those terms, let's look at a few reasons why NameCheap's EasyWP is a good managed WordPress hosting solution for your new blog.
1) Ease of Use
Great user experience is the most important feature any managed hosting system can provide but most bloggers don't even know it.
You want a system that is fast, easy to understand, and also secure without having to worry too much about how it works.
A platform that is easy to use but also very efficient is just what a blogger needs.
You are using your blog to promote what you know, to share what you have with people, and create more awareness for your business. Though the income may come through your blog, it is what you do that makes you the money.
So you really shouldn't be the one to worry about the technical issues as you have bigger duties to perform for your business.
One of the reasons a lot of bloggers are finding it difficult to succeed is their inability to discover what to spend time on.
As mentioned in one of the discoveries that distinguish successful bloggers, you shouldn't be the one to fix problems on your blog. Unless you are a developer using your blog to teach people how to code.
You should not be the one creating great and unique content for your blog, running your business, and also the one writing code for that blog.
It's just too much for one person. I am yet to see any successful blogger in that kind of routine.
Basically, you may have to learn how things work and how to push a few buttons to keep them working and that should be it.
Consider what it would be like to own a laptop and also be the one to repair the keyboard or the power button when it malfunctions.
It's like having a car and also making yourself the mechanic.
Even if you get to learn how to do any of those it will always take from the time you would have used for personal development, research, and production of goods and services which in the case of a blog will most times be great content.
You will always come out exhausted, having too little to give to the audience waiting to hear from you every week and sometimes every day.
That is what many bloggers – especially those using Blogger.com – are doing and wondering why their articles and their blogs, in general, are not as appealing and as productive as they want it to be.
The reason is simple: you are doing so much that you don't have time to get your creative ability to its peak and also figure out the changes you need to make for your blog to become more appealing to your audience.
This is why I recommend EasyWP by NameCheap.
Namecheap's EasyWP gets you a working WordPress blog in just a few clicks. Once you have a theme installed, you can go on to delete, or rearrange and customize the photos, wording and widgets, then launch!
Better still, after creating your blog, you can get a developer to handle the design for just a few bucks. You don't have to find them online.
You can contact a developer near you and tell them that you have set up your blog but it just needs a designer to improve the overall look and feel of the blog.
That way you won't have too many problems getting it done at an affordable fee.
2) 24/7 Support
Affiliate commission or not, this is one of the reasons I'm able to recommend NameCheap to anyone, anytime, any day.
It's like going out with your mom. (I'd like to say dad but sometimes, you know.) You always get your questions answered – even the dumb ones.
At times you may be making changes or adding a verification token for your blog but just can't get it right. Other times you touch the wrong button by mistake and your site goes offline.
I know how funny some of us can be with electronic devices. A certain woman brought a smartphone to me and said "hey, check this for me, please."
"What's the problem?" I asked. "The language has changed to French." Normally once you tell me the problem, my next question will be "what did you press?" Surprisingly, what you hear most times is, "I didn't touch anything o!"
A funny but important moment like this may come for your blog. That's where you are going to need instant support.
I know how frustrating it is to have a problem on a live website, then you contact support, maybe through a contact form on their website or by email and it would take them hours sometimes days to respond.
If you can't fix issues on a live website as quickly as possible, you may annoy your customers or give the wrong impression to first-time visitors.
If your web service continues to malfunction for hours or days you will also lose rankings on Google and other search engines.
This is why you need a managed WordPress hosting service that offers 24/7 support, especially if you are new to blogging.
Right now, it's hard to find anything better than NameCheap's customer care unit. Once you hit a snag, simply hit the button labelled "Chat with a Live Person" and send in your question.
In just a minute or two, a NameCheap staff will be there to answer your questions.
3) 99.9% Uptime
Apart from EasyWP, I've bought domains from NameCheap and have referred my friends too. I'm yet to hear any of them complain about uptime.
This means that almost 100% of the time, your blog will be up and running which is just what you need for your blog or online business.
And if you ever get your blog offline by pushing the wrong button, NameCheap's awesome customer service unit will always be there to help you out.
One of the reasons I'm never afraid to use a product created by NameCheap for my blog is the fact that their 24/7 support system means someone is always there to be responsible and give answers for whatever goes wrong with the product or service.
4) Affordability
Growing up, I found it difficult to bargain and bring down the price of an item I wanted to purchase when I went to the open market.
The smallest and highest price I could pay was always the amount of money I had in my pocket. If you could guess how much I was worth, then you would know how much I was going to pay no matter what the original price of the item was.
It only took growing up for me to adjust. But I still do it when I'm not so conscious about that weakness of mine. (You'd bet I may need a partner who thinks in the opposite direction.)
This is probably why I can't help but fall in love with the affordability of EasyWP.
EasyWP has all the features anyone needs to start a blog that is ready to take on the World. But they still went on to make it super cheap and affordable.
There are lots of hosting services that look affordable on the surface but after that first monthly or yearly payment, things could get really costly.
You don't want to start your blog on a platform you won't be able to afford if things don't go as planned. Some blogs stay for months before they are able to start paying for themselves.
You always have to get money somewhere else to keep it going until the dollars start rolling in.
NameCheap will give any new blogger the opportunity to do just that.
You need an affordable and efficient managed WordPress hosting service because hosting and domains may not be the only thing you have to pay for. What if you need to hire a designer?
For me managed WP hosting and domains were all I paid for since I knew a bit about setting up a blog on WordPress.
And if you have a domain already, that's just $1 for the first month and less than $4 after the first month.
EasyWP gives anyone the perfect opportunity to get things started with your online business with as little stress as possible while learning how to stay afloat and hit that first $1000. This is why I recommend their services to any blogger out there.
If you love the idea of keeping your expenses as low as possible while getting started, then you can use my link. When you sign up with this link, you will be able to start your self-hosted WordPress blog for free.
Once your free plan which will last at least 30 days expires, you will then pay just $3.88 to continue.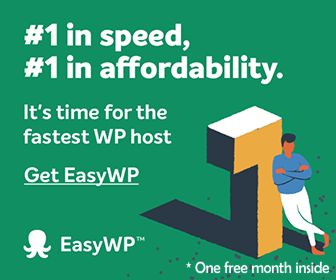 Other EasyWP perks you may not notice at first glance
Speed
We have chosen to highlight only four outstanding EasyWP features but there's more. Things like speed.
May 2020 I decided to set up a fresh WordPress blog on EasyWP. Then I checked the domain with Google PageSpeed Insight and they gave me 99% out of 100% for speed.
What more would you ask for?
Free SSL and CDN
Beyond that, you also get to use NameCheap's CDN for free if you sign up for the Turbo plan.
EasyWP's Turbo plan also includes a free SSL certificate for your WordPress website.
If you cannot afford the Turbo plan, you can simply sign up for the Starter plan, then connect your WordPress blog to Cloudflare to start using their CDN and an SSL certificate for free.
Better still, once you sign up, contact NameCheap's awesome 24/7 support system. They will answer your questions and help you get your blog up and running in a breeze.
Common EasyWP FAQs
How much does it cost to start a blog on EasyWP?
For starters, you can start a WordPress blog on EasyWP for just $10.06. If you use my link to get one month for free, you are only looking at $9.06.
Should I start my blog with EasyWP or Bluehost?
There is no one size fits all solution to this problem, but the following suggestions will help. Bluehost is the best hosting company out there for WordPress blogs. But you will have to pay for at least 12 months of hosting to get started. If you have the money, go for Bluehost.

On the other hand, you will do just fine with EasyWP if you don't want to spend much at the moment. It takes only $10.06 to get started on EasyWP and $3.88 to renew if you go for the starter plan. They also allow monthly payments. But that also means you will be the one to install and update your SSL certificate.
Related Articles