Setting up an SSL certificate for your WordPress blog on EasyWP

is easier than you think. Here is how to do it in less than five minutes.
Are you not using EasyWP? No worries. This tutorial will make things easier for anyone using WordPress

.
Watch the video below if you can't follow the written instructions.
Since Namecheap offers an SSL certificate to users of Turbo and Supersonic plans

, a free SSL certificate will be most beneficial to those using the EasyWP starter plan.
After creating a blog on EasyWP

, I recommend connecting your WordPress blog to Cloudflare

; this will give you access to their CDN and SSL certificate for free. I'm not yet a fan of Namecheap's Supersonic CDN.
If you can't use Cloudflare with your WordPress blog for some reason, this guide will help you install an SSL certificate for your blog, quickly, in minutes.
Before we begin the setup, let's learn a little about SSL certificates and the reason you need to install them on your website.
Why install an SSL certificate?
SSL, which stands for Secure Socket Layer, is one of the essential protocols used to ensure secure communications between networked computers.
Your blog is connected to another computer or network over the internet in several ways. Whenever someone uses your website — that could be a user who drops a comment or uses the contact form — they initiate the transfer of data.
The information they enter is sent from one place — your website — to another over the internet.
The SSL protocol (with other security protocols) installed on your website encrypts the data transferred to ensure that the information is not intercepted by intruders and viewed along the way before reaching its target destination.
These protocols ensure the security of your information and that of your users.
Now that you know why you should install an SSL certificate, let's get it done in 5 minutes. Try boiling an egg!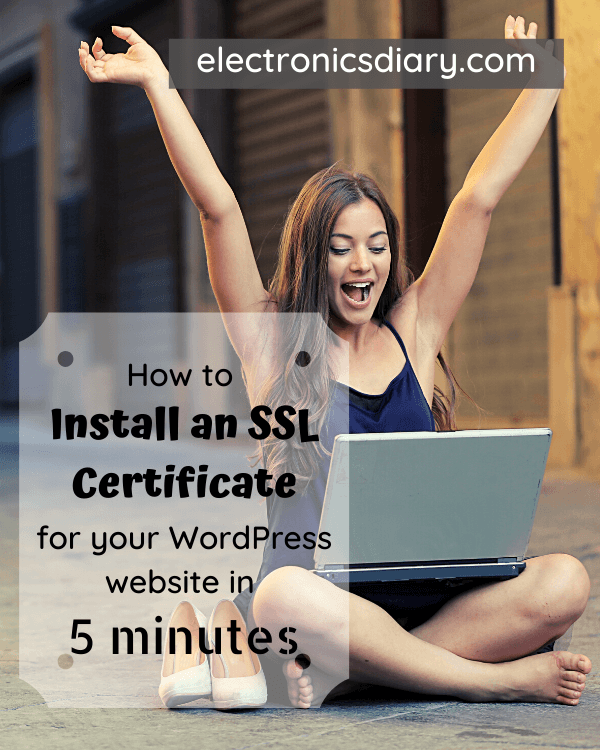 How to Install an SSL Certificate on EasyWP
Go to your WordPress dashboard.
Scroll down to Plugins. If, for some reason, you hate using this plugin, delete it after setting up the SSL certificate.
Go to Add New.
On the search bar, type "SSL"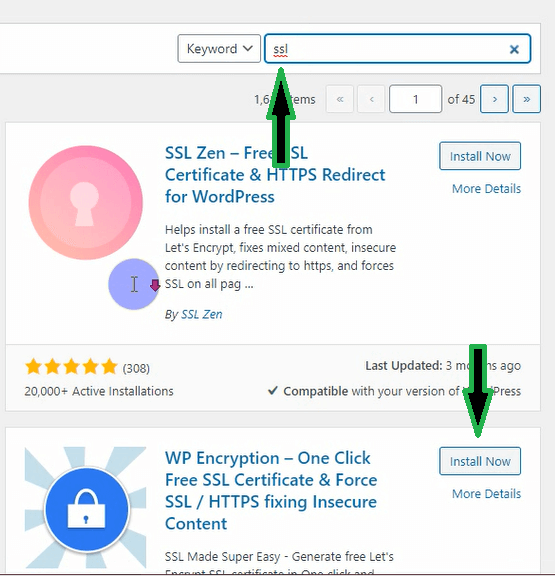 Look for "WP Encryption – One Click Free SSL Certificate & Force SSL / HTTPS fixing Insecure Content" by Go Web Smarty.
Click on Install Now.
After installing the plugin, click on Activate.
You can decide to sign up for notifications or skip this step. Your plugin will work just fine.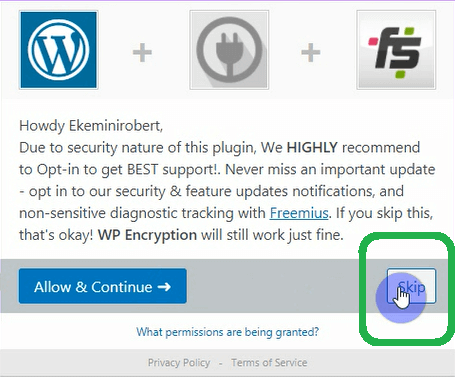 On the next page, select a plan. If you don't have 50 bucks, select the free plan.
Enter your email and

check the necessary boxes

. Usually, you will have to check all the boxes.
Now click on Generate Free SSL certificate.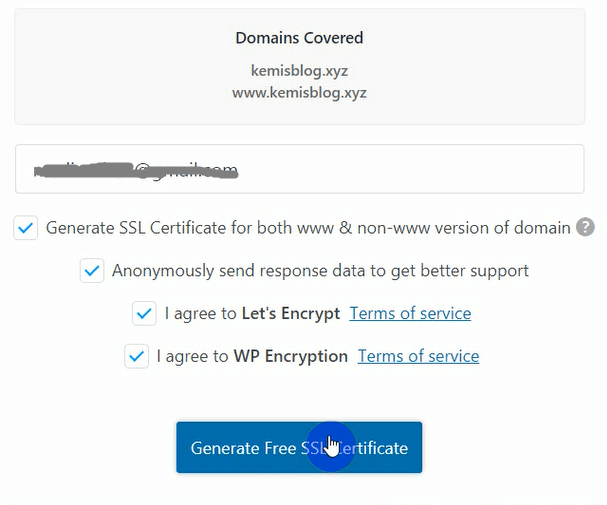 Once your certificate is generated, download the necessary files. That would be the cert file, the key file, and the ca bundle.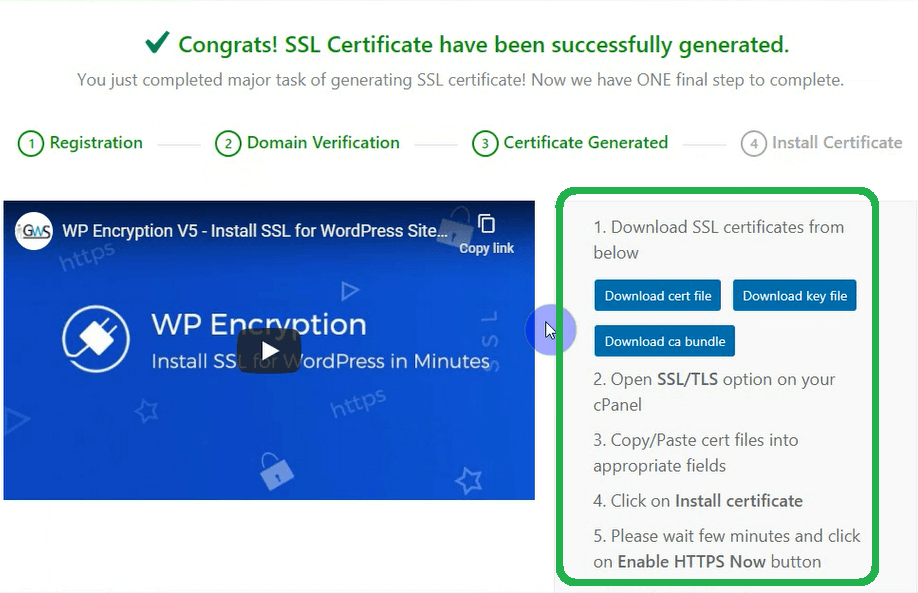 If you are using EasyWP, open another tab and go to your EasyWP dashboard. Log in using your Namecheap account. (If you are not using EasyWP, access your SSL certificate installation interface of your Cpanel. If you don't know where to find that, please contact the support team or Google it.)
Select your website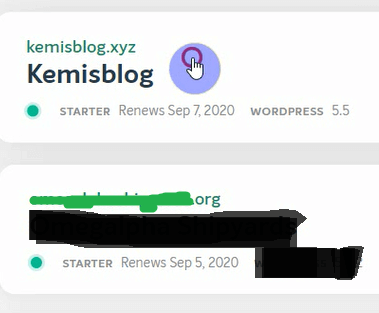 On the following interface, go to SSL Certificate and click on Change.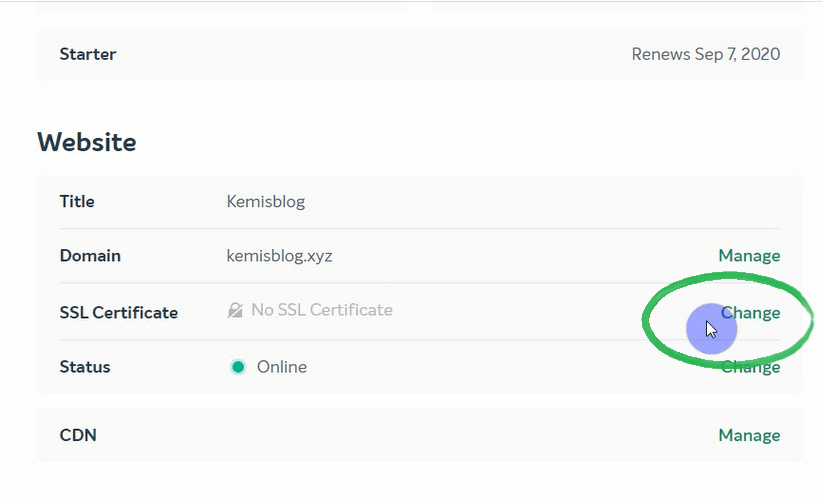 Select the Add button attached to "Certificate."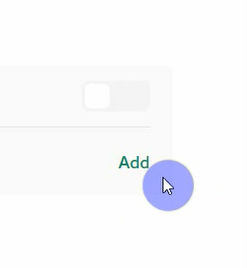 Choose Custom SSL Certificate. Upload the required files appropriately.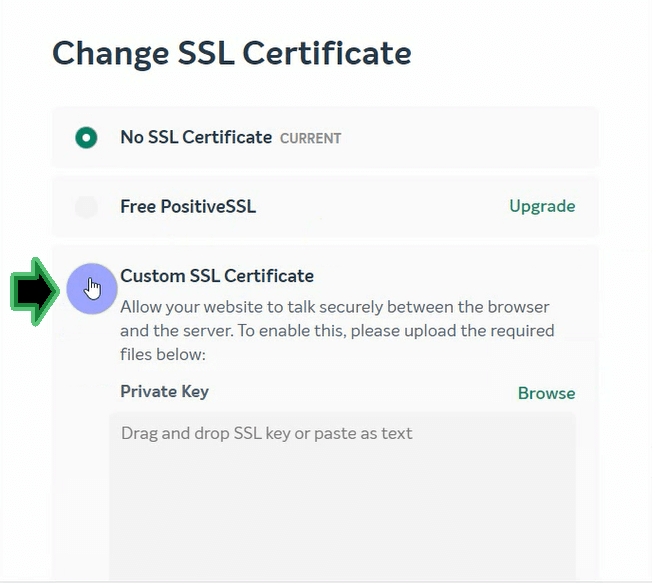 Suppose you are using Google Chrome, drag and drop the three files. If not, open the files with Notepad or some other text editor, then copy the content to EasyWP.
Check the file name for the appropriate extension.
Key.pem is the private key.
Cert.crt is the SSL certificate.
Cabundle.crt is the CA Bundle.
Once you are done placing the contents, click on Change.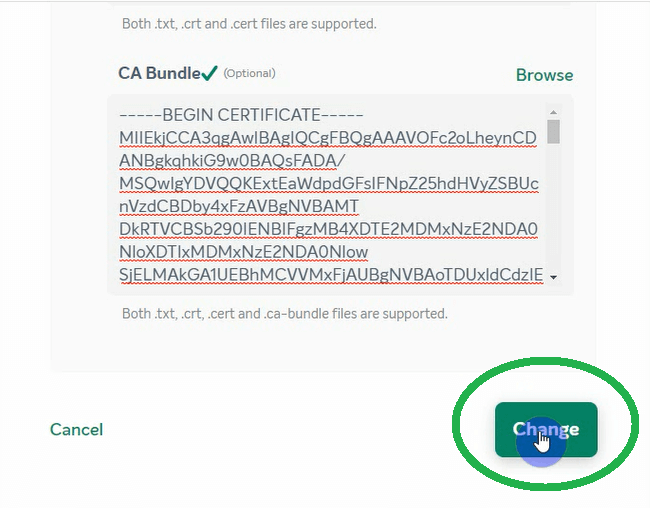 On the next page, change the status of the SSL Certificate from Inactive to Active by toggling the switch.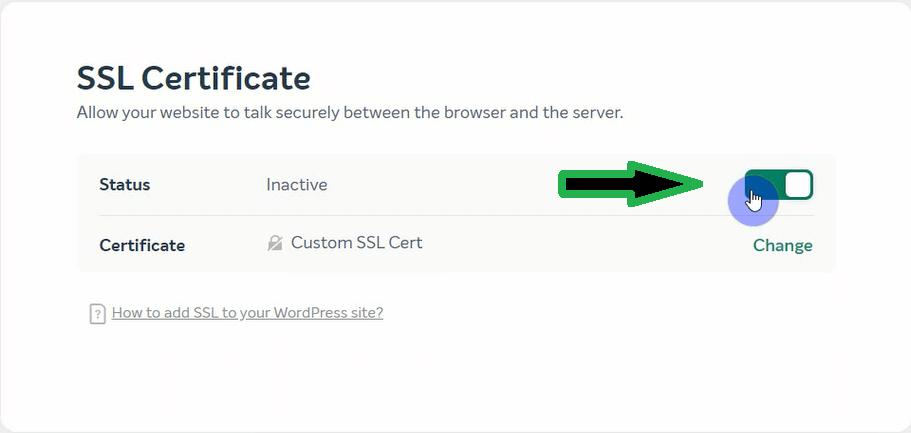 That's it! You have successfully installed an SSL Certificate for your WordPress blog.
Visit or reload your website to confirm the changes.
Starting a WordPress website

 on EasyWP is easy and affordable. Moreover, you can make payments every month if you are not ready to go all-in just yet.
Read how to set up a WordPress blog on EasyWP

to learn more about to learn more.
Most people get stuck installing an SSL certificate for their EasyWP blog. This is why I recommend connecting your EasyWP website to Cloudflare's CDN when you are through with the WordPress installation.
Cloudflare will give you a free SSL certificate and speed up your website using its content delivery network (CDN).
But if you can't get an SSL Certificate by connecting your website to Cloudflare, follow the instructions above or watch the video to learn how to finish the installation in just 5 minutes.
EasyWP FAQs
How much does it cost to start a blog on EasyWP?
For starters, you can start a WordPress blog on EasyWP for just $10.06. If you use my link to get one month for free

, you are only looking at $9.06.
Should I start my blog with EasyWP or Bluehost?
There is no one size fits all solution to this problem, but the following suggestions will help. Cloudways

is the best hosting company out there for WordPress blogs. Read this article to learn more about Cloudways.
On the other hand, you will do just fine with EasyWP if you don't want to spend much at the moment. You can get started on EasyWP for free (30-day free trial), then renew at $6.88 per month if you go for the starter plan

. But that also means you will be the one to install and update your SSL certificate.
Related Articles