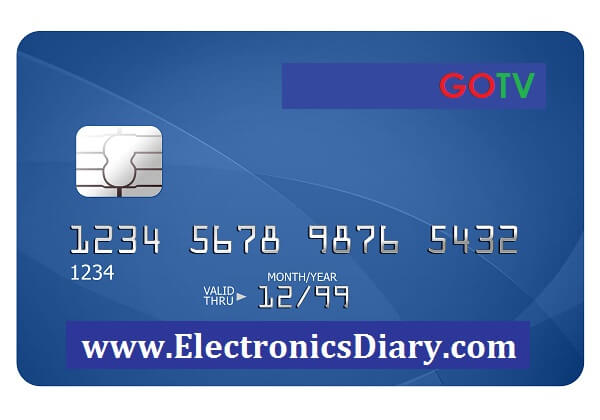 Hi! Hi! Hi! The greeting shouldn't bother you: it's just the excitement of reaching you once again on Electronics Diary to help you with your gotv payment issues.
We made a post to show you how to make gotv payments online

from the comfort of your home or office but some of the methods have changed.
Today, we will take you through the current methods of paying for Gotv channels Online.
Few things you need to know
Firstly we would like to remind you of the fact that making payment is different from clearing gotv error codes

.
Why? Making payment is just about paying for the services you get from Gotv (Multichoice) but clearing error codes is just what it is – clearing error codes.
Errors could occur for many reasons but the most common type of error is the one you get when your gotv subscription expires. You could also get an error code because of the bad weather, faulty connection or some software issue.
So here are the current ways of making gotv payments online. The good thing about subscribing is that it is fast and easy. 
You will also avoid the queue at the nearest gotv shop. This does not only waste time, sometimes it forces you into adjusting your schedule so you can be at a shop to pay for gotv services. 
And it does not matter whether you make payments, online or offline or at a shop, you have to learn how to deal with error codes whenever they show up. 
If you would like to get information on clearing error codes, please read this article

.
So there are several ways of making gotv payment online. You could use:
the Gotv website

banks: over the counter or using USSD (Unstructured Supplementary Service)

or other e-payment solutions such as Quickteller, GlobalPAY, etc.
To make gotv payment at the Gotv website, follow the steps outlined:
Visit easy.gotvafrica.com
Click on Pay
On the form provided, enter your IUC number
Select your country
Enter the captcha provided and click verify
If you entered the details correctly, a form will be displayed to confirm your account holder name, country and IUC Number.
Check to see that the details are correct then click on view balance & pay
Once you click on pay, the payment summary page will be displayed.
Confirm the amount you want to pay and click on pay
On the next page I recommend you select Quickteller as the payment method, and then click on next.

You will be sent to the Interswitch payment portal

Enter your ATM number, expiry date, CVV (three digits at the back), then click on pay.

To make sure you are making payment as the owner of the ATM card, a (6-digit) safetoken will be sent to your phone. Enter the safetoken to proceed.
On the next page, you will get a message (payment notification) to let you know your transaction was successful.
Once you are done with making payment, you will have to upgrade or decoder (if your subscription did not expire completely) or clear error code (if your subscription had expired). Both activities have to do with upgrade anyway.
That's it with making payment via the gotv portal. Next is how to make payment through the banks supported by gotv.
Making gotv payment From Your Bank Account
The three banks supported are Stanbic Bank (via Stanbic mobile), FCMB and Zenith bank mobile wallet. But we will only cover payments for two banks: Stanbic and FCMB.
To make payment through FCMB, Visit any FCMB branch and make the deposit using FCMB bank teller. Fill out the FCMB Bank teller properly and be sure to include your name, phone number and IUC Number.
To make pay for gotv channels using Stanbic Bank Mobile, follow the steps below;
dial *909#

select 4 and register

provide the required customer information

press send.
Finally on banks, to download the Zenith bank mobile app for making of payments, visit this zenith bank web page

to learn more.
After subscribing online, you might want to upgrade your decoder or clear error code. Please see the articles on how to clear error codes

fast and easy.
If you have any difficulty in following any of the steps above, please comment below and we will hit you back ASAP. 
How to use GOtv Parental Control