The fastest way to clear Gotv error code or get your decoder activated has been discovered and that is what we will be looking at today.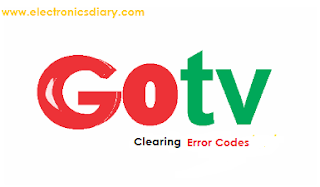 (Note: this article was written a few years back. Whether you find it useful or obsolete, please let me know. Your feedback will help me serve you better.)
In Summary, you will learn how to clear gotv error code using:
Social Media (WhatsApp and Facebook)
Using SMS Short Codes
First of all, you have to know the kind of error code you want to clear.
There are two major types of error codes you will come across while using Gotv. They are the e16 error and the e45-32 error codes.
The e16 error code appears when your subscription has expired and the e48-32 error code appears when there is a bad signal either due to bad weather or a faulty connection.
Regular Ways of Clearing Error Codes
There are several ways of clearing error codes. Here a few you may want to try.
Simply send RESET + IUC Number to GOtv shortcode. If you do not know your shortcode, scroll down and you will find Gotv SMS Shortcodes by country.
You could also call them or visit the nearest GOtv multichoice center near you.
If the regular methods disappoint, check out the fastest way to get back online once you receive a payment notification.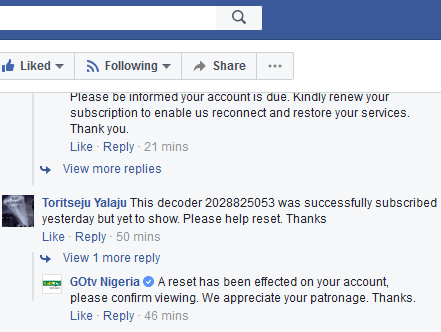 The Fastest Way of Clearing Gotv Error Codes
The quickest method you could use when trying to get back online is making use of the Gotv Facebook page. You have probably tried that but it did not work out, right? Well, that is because this method also has limitations.
The Gotv Facebook page used here is for just one country. To find the Gotv Facebook page for all Gotv countries, please see the article on How to reach gotv customer care via Social Media.
They might not respond to queries 24 hours a day and weekends are not good too. But you can always try this option.
After making payment, visit the GOtv Facebook page. Find the latest post made by GOtv – a post on anything.
When you find the latest post (or active) post, post a comment.
something like "Activate my decoder, IUC – 4601xxx921."
Wait for about five or ten minutes and you will get a response to your comment telling you that your decoder has been activated.
Make sure your decoder is switched on so it can receive commands. That's it! Quick and easy.
Clearing e32 or e48-32 Errors
The other kind of gotv error code you will find is the E32 or E48-32 error code. This shows up to notify you of a signal problem. If you find this error code on gotv, then you have to do some manual work to clear it. The e48-32 error code could also appear due to adverse weather conditions. Here's how to fix it.
Reset your decoder.
Check to make sure the coaxial cable is properly connected or linked. Then reset your decoder again.
If this does not work, check to see if your antenna is well-positioned (that is, if it is still at the normal position). If the gotv antenna is not well-positioned, correct it. Check to see if it is blocked by some new structure. If it is blocked, look for another position for it or use a rod to increase the "height" of the antenna.
There are other ways of clearing E16 and E30 error codes on gotv. You can do this using the gotv SMS shortcode method. You can find the gotv SMS shortcode for your country below.
Clear Error Codes Using Gotv SMS Short Codes
The following will show you how to use shortcodes when clearing E16 and E30 error codes. The E16 error code indicates that you have been disconnected for not paying your subscription or upgrading your decoder before expiry. 
The E30 gotv error code indicates that you have probably been switched off or without a signal for too long. Both error codes can be cleared using SMS.
Gotv SMS Shortcodes by country
Nigeria– E16: SMS "Reset" and your IUC Number to 4688
Nigeria – E30: SMS "Reset" to 4688
Ghana – E16: SMS "Reset" and your IUC Number to 4688
Ghana – E30: SMS "Reset" to 4688
Mozambique – E16 Error code: SMS "Signal" and your IUC Number to 94688 or dial *788#
Mozambique – E30: SMS "Signal" to 94688
Kenya – E16: To clear this, SMS "Reset" and your IUC Number to 22688
Kenya – E30: SMS "Reset" to 22688
Malawi – E16: SMS "Reset" and your IUC Number to 54688
Malawi – E30: SMS "Reset" to 54688
Namibia – E16: SMS "Reset" and your IUC Number to 44688
Namibia – E30: SMS "Reset" to 44688
Rwanda – E16: SMS "Reset" and your IUC Number to 5688
Rwanda – E30: SMS "Reset" to 5688
Uganda – E16: SMS "Reset" and your IUC Number to 6488
Uganda – E30: SMS "Reset" to 6488
Zimbabwe – E16: SMS "Reset" and your IUC Number to 4688
Zimbabwe – E30: SMS "Reset" to 4688
Those are the gotv SMS shortcodes for African countries. If your country is not listed above contact me or use the comments section to let us know. I will add your country to the list with the needed shortcode.
GOtv users who come across the E16 error code are mostly the ones who do not upgrade their bouquet before expiry.
To save yourself from reactivation requests, it is advisable to upgrade your bouquet before the previous subscription expires.
Nonetheless, there are instances where you still come across the E16 even after paying for your bouquet before expiry.
Conclusion: Getting your decoder reactivated as fast as 4 to 5 minutes is not a huge tech trick; it's just a simple avenue a lot of us homeowners ignore. Probably because we do not have the time or just don't think it will help us deal with an error code.
If you encounter any problem with your Gotv, please use the comment session.
Related Articles: