With a Parental Control PIN, you can easily block and unblock channels on your DStv decoder. But we often run into problems when we forget the PIN. But that's no longer a problem. Here is how to reset your DStv parental control PIN in less than no time.
There are several ways to reset a PG PIN but if you are out of time and you probably don't have your remote handy, you can reset your DStv Parental Control PIN without a remote by contacting DStv customer care on any of their social media channels, preferably Twitter.
Tell them you've forgotten your PG PIN and they will reset it to the default PIN once they confirm your personal information.
Most customers use Twitter but it's not a law or something. You can always use the customer care channel with the shortest average response time in your area.
Reset Parental Control PIN using Factory Settings
Another way to reset your DStv Parental Control password is by resetting your decoder to factory default. You should only try this method if you can't get a hold of customer care.
This has not worked for most users. If it works for you, great. If it doesn't, then you still need to contact DStv.
Caution: According to DStv, "Resetting your settings to the factory default values will reset your Personal Preferences, Installation Settings, Technical Settings and Favourite Channel Groups."
Your decoder will rescan after the changes are complete.
Here is how to reset DStv Parental Control PIN by resetting your decoder:
Press the Blue "DStv" Menu button on your remote
Scroll to Settings using the left/right arrows < >
Scroll down to System Settings using the down arrow
Move right, then scroll down to Reset Decoder Settings
Press the OK button to select
Scroll down to Reset To Factory Settings
Then select Reset To Factory Defaults
Your decoder will go black, wait for the Installation Wizard interface
On Installation Wizard, Select your preferred language using the OK button
Read the message on the right, then select Satellite
Select Manual Setup
Press OK to scan (If you need to select the LNB, go with Universal)
Scanning will take a few seconds then your channels will be back on
But like I said, resetting your decoder may not reset your PG PIN alongside.
Recommended Resource: How to Reset a DStv Remote.
Changing Your DStv Parental Control PIN
Resetting your PG PIN will change it back to the default code. Your default DStv Parental Control PIN is 1234.
You need to change it to a new one to make sure you are the only one who can access blocked channels.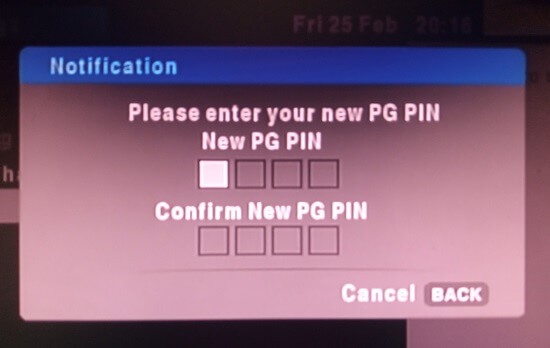 After the reset, follow the steps below to change your DStv Parental Control PIN:
Press the Blue DStv button
Navigate to Settings
Scroll down to Parental Control
Navigate right and select PG Settings
Use your remote to enter the default PG PIN: 1234.
Select Change PG PIN
Enter your New PG PIN twice
The PIN change will occur automatically once a fresh PIN is entered twice
That is how to reset your Parental Control PIN if you forgot your PIN. You can also change your PIN anytime you want.
It is recommended you change the default Parental Control password for security purposes.